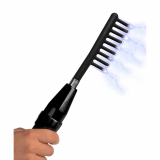 Violet Wand Electrostimulation Device buy in Switzerland:
Eeh? Electrosex E-stim what is that? (Click me)
Violet Wand
electrostimulation
device
buy
: The Violet Wand electrostimulation devices was the first generation of E-stim devices, which connected electrical power with erotic stimulation. While the first Violet Wand device, also called "
purple wand
" system was not unwieldy and very sensitive, there are today modern Violet Wand devices for the sensual, erotic electrosex experience.
The Violet Wand device work with colored (mostly violet), small "flashes", similar as statical charge. These produces a lighshow when the electrodes are used at the body. The intensity is controlled, except at the wand, also by distance to the body. Your partner can experience feelings from soft erotic tingling to surprising quick and strong flashes.
You can be yourself an electrode if you
buy
the body-pads! Then your fingertips send the fascinating lightimpulses to your partner! Violet Wand's are also ideal for beginners, use it in a darker playroom and enjoy the sensual electro-erotic stimulations! Violet Wand electrostimuation device buy in
Switzerland
low-priced at Fetischladen CH!