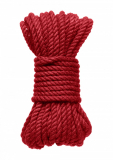 Bondage Ropes buy:
Bondage
ropes
buy
: Bondage ropes for beginners as well as advanced
bondage
enthusiasts are available in various materials such as hemp, jute, cotton and also synthetic fibers as nylon and polypropylene.
Most ropes for purpose-bondage, decoration-bondage, suspension and other types of bondage come with a rope diameter of 6 to 8 mm thickness. If you buy classic bondage ropes made of natural fibers like hemp or jute, these ropes need a bit more care than cotton and synthetic ropes.
How much bondage ropes buy?
That depends on which bondage you want to perform: You need about 12 meters of bondage rope for a detailed upper body bondage including the hands. For a lower body bondage it needs about 6-7 meters of rope, each about 4 meters for a feet-bondage. Then you have a full body bondage with about 26 to 27 meters of used rope.
Many bondage hobby and professional artists create their bondages with rope sets with 7-8 ropes with about 7-10 meters of the same length. For decorative bondages, a longer rope can be used as a base with about 15 - 20 meters in length. Bondage ropes buy in
Switzerland
cheap at
Fetischladen
CH
!